European LifeCycle Project: a network of cohorts totalling 250,000 children to improve public health
The early years are a vital window of opportunity for improving children's future health prospects across the lifespan. There is mounting evidence to suggest that exposure to early-life stressors (environment, lifestyle, migration, etc.) has an impact on subsequent health trajectories, as well as on the risk of developing certain diseases in adulthood. Moreover, geographical, socio-economic and ethnic differences are linked to health inequalities from infancy onwards.
Numerous European birth and child cohorts have been set up over the past 30 years precisely to tackle these key public health issues. They have yielded a wealth of data, adding to existing knowledge and substantially influencing public health policy. Nevertheless, they would have an even greater impact if their data were pooled.
Pooling data from European cohorts to understand health trajectories better
It was for this very reason that the LifeCycle Project created the EU Child Cohort Network. Bringing together 19 European birth and child cohorts, including Elfe (see Fig. 2), this network represent more than 250,000 children, together with their parents. 
LifeCycle uses the network's integrated and harmonized set of variables to determine which types of early-life exposure (socioeconomic, migration, urban environment, nutrition, etc.) can potentially affect cardiometabolic, respiratory and mental health, as well as lifetime health trajectories.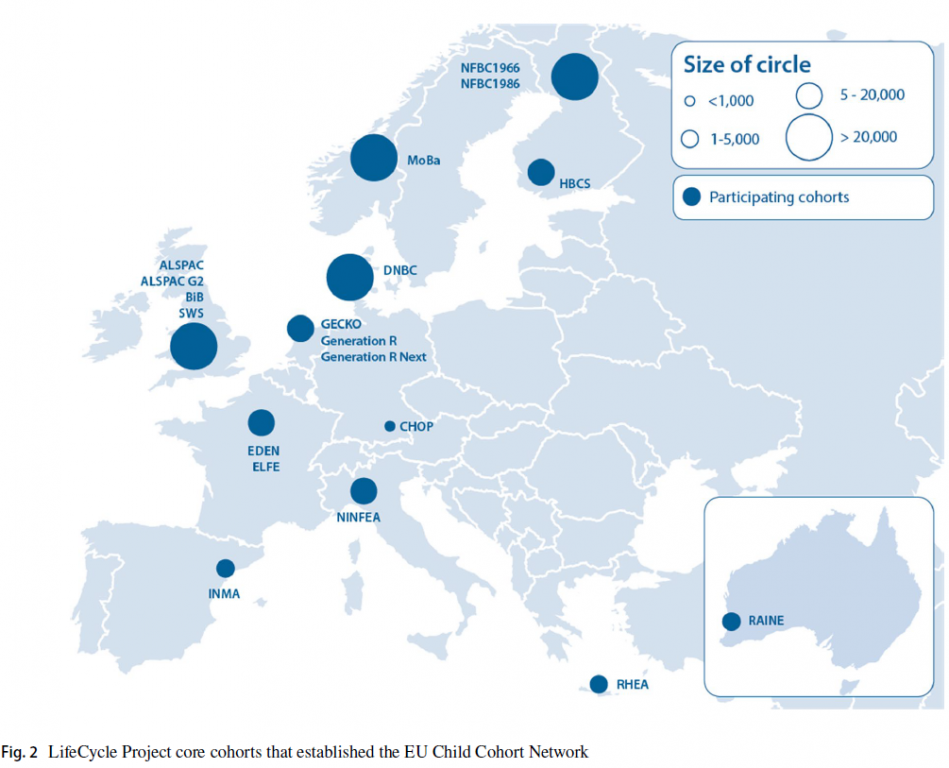 Collaborative research to improve public health
Data from the different cohorts have been harmonized. These harmonized data are kept by each institution, but can be used as a resource by outside researchers via a central analysis server. This server does not allow access to individual data, so researchers can only view averaged results of analyses. National and international data protection regulations are embedded in this technology.
In the spirit of open science, all the protocols that were followed to harmonize the data and set up the server are available online. The EU Child Cohort Network website will continue to give researchers access to data from the different cohorts even after the LifeCycle Project has come to an end. 
The LifeCycle project will enable the results of the EU Child Cohort Network to be translated into preventive recommendations aimed at improving the health trajectories of future generations.
LINKS FOR MORE INFO
The LifeCycle Project-EU Child Cohort Network: a federated analysis infrastructure and harmonized data of more than 250,000 children and parents", European Journal of Epidemiology 35: 709-724. Mai 2020 [Lien]
KEY FIGURES
19 birth and childhood cohorts in Europe.
250,000 children and their parents
2021: date of first publications
The birth and child cohorts of the Lifecycle project
Elfe and Eden in France
INMA in Spain
NINFEA in Italy
CHOP in Germany
ALSPAC, ALSPAC G2, BIB, SWS in the UK
GECKO, Generation R, Generation R Next in the Netherlands,
RHEA
MoBa in Norway
NFBC1966, NFBC1986, HBCS in Finland
RHEA in Cyprus
RAINE in Australia.